Tiziana Sgroi tra l'eccellenza scientifica al femminile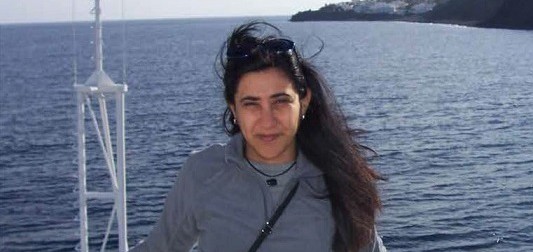 È italiana e dell'Ingv, la ricercatrice selezionata a far parte delle oltre 200 autobiografie di donne scienziate nel campo dell'oceanografia, recentemente raccolte in un volume speciale della rivista Oceanography, dal titolo  Women in Oceanography – A Decade Later
Un'attività di ricerca prevalentemente a mare, dedicata allo studio dei sistemi crostali di natura sia tettonica sia vulcanica, attraverso la correlazione tra dati sismici, geofisici e oceanografici. È con questa motivazione che Tiziana Sgroi, ricercatrice dell'Istituto nazionale di geofisica e vulcanologia (Ingv), è stata selezionata dalla rivista Oceanography, a far parte degli oltre 200 sketch autobiografici di donne scienziate nel campo dell'oceanografia, recentemente pubblicata in un volume speciale dal titolo Women in Oceanography – A Decade Later (http://www.tos.org/oceanography/archive/27-4_supplement.html).

"E' un'immensa soddisfazione, sia a livello lavorativo che personale",  afferma la ricercatrice dell'Ingv, Tiziana Sgroi. "Essere una delle due italiane invitata a partecipare a questa iniziativa (l'altra è Sara Pensieri dell'Istituto di studi sui sistemi intelligenti per l'automazione del Consiglio nazionale delle ricerche, Issia-Cnr,) mi ha riempito di orgoglio, soprattutto per le implicazioni in termini di riconoscimento dell'attività svolta in un campo che, in generale, in Italia non è ancora ben affermato e sostenuto".
La ricercatrice dell'Ingv è stata invitata a presentare la propria autobiografia a seguito della recente pubblicazione, sulla stessa rivista, dell'articolo Geohazards in the Western Ionian Sea Insights from Non-Earthquake Signals Recorded by the NEMO-SN1 Seafloor Observatory (http://dx.doi.org/10.5670/oceanog.2014.51), nel quale si evidenziavano le possibili sorgenti di instabilità del fondale del mar Ionio, attraverso l'analisi di dati sismici non associati a terremoti.
"Le motivazioni che hanno portato a riproporre questa iniziativa, a 10 anni di distanza dalla stesura del primo volume (Women in Oceanography, pubblicato nel Marzo del 2005; http://www.tos.org/oceanography/archive/18-1.html), è abbastanza comprensibile", prosegue la ricercatrice. "la parità di genere nel mondo della ricerca è un obiettivo lontano dall'essere raggiunto. Nella parte iniziale del volume, una serie di articoli evidenziano quanto siano ancora basse le percentuali di genere nel campo della ricerca a livello mondiale. Negli Stati Uniti la statistica sull'occupazione e la possibilità di carriera in ambito accademico delle scienziate che si occupano di oceanografia mostra valori del 30% nel caso di Assistent Professor e inferiori al 20% nel caso di Full/Senior Professor. Inoltre, i dati riguardanti la partecipazione femminile alle campagne oceanografiche dell'Ocean Drilling Program (Odp), cooperazione internazionale nata per esplorare e studiare la composizione e la struttura dei bacini oceanici del nostro pianeta, si aggira intorno al 30%. In entrambi i casi, in Europa le percentuali sono più basse, come ad esempio nelle campagne Odp nelle quali la partecipazione femminile è inferiore al 10%".
Tre gli elementi in base ai quali Ellen Kappel, Editor della rivista, ha selezionato le autrici delle biografie: dalla sottomissione di articoli scientifici su Oceanography, in qualità di prime autrici, alla partecipazione a conferenze, in qualità di invited speakers o discussion leaders, fino alla certificazione AGU Fellows.
"Questa pubblicazione mi ha permesso di raccontare in modo semplice le attività di ricerca multidisciplinare che svolgo, le motivazioni e le sfide che sostengo tutti i giorni", conclude Sgroi.
L'autobiografia è consultabile al link: http://www.tos.org/oceanography/archive/27-4_supp_bios.html