SALOTTO MUSICALE PUGLIESE al Teatro Comunale di Bitonto
Written By: editoreusa
|
14 August 2018
|
Posted In:
Domenica 26 agosto, ore 20 – Bitonto, Teatro
IAMA in collaborazione con TOKYO ACADEMY OF MUSIC
SALOTTO MUSICALE PUGLIESE
PRESENTAZIONE DEL DOPPIO CD – Digressione Music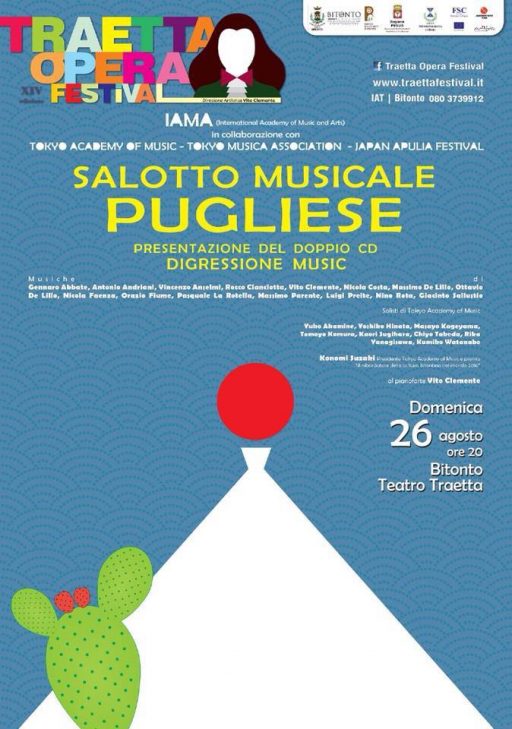 Musiche di:
Gennaro Abbate, Antonio Andriani, Vincenzo Anselmi, Giuseppe Barile, Giovanni Chiapparino, Rocco Cianciotta, Vito Clemente, Nicola Costa, Massimo De Lillo, Ottavio De Lillo, Nicola Faenza, Orazio Fiume, Leonardo Furleo Semeraro, Pasquale La Rotella, Alfredo Macchitella, Michele Maiellari, Massimo Parente, Luigi Preite, Nino Rota, Giacinto Sallustio, Nicola Scardicchio, Ilaria Stoppini, Nicola Ventrella
Solisti di Tokyo Academy of Music
Yuko Akamine, Maria Cristina Bellantuono, Tina D'Alessandro, Yoshiko Hinata, Masayo Kageyama, Tomoyo Komura, Paola Leoci, Kaori Sugihara, Chiyo Takeda, Rika Yanagisawa, Nozomi Yoshida, Kumiko Watanabe
Konomi Suzaki
Presidente Tokyo Academy of Music
Premio "Ambasciatore della cultura bitontina nel mondo 2016"
al pianoforte Vito Clemente
Il doppio CD Salotto musicale pugliese, frutto del proficuo rapporto di collaborazione con la Tokyo Academy of Music e l'etichetta discografica Digressione Music, vede nuovamente impegnati gli amici giapponesi in una produzione che omaggia la musica e i musicisti della nostra terra. Dopo la presentazione a Tokyo, dove l'impegno costante di Konomi Suzaki dà vita da sette edizioni al Japan Apulia Festival, felice kermesse musicale dedicata alla nostra regione nella capitale giapponese, il disco vede la sua ufficializzazione a Bitonto. Oltre venti compositori pugliesi e nuove commissioni del TOF rendono questo lavoro unico sotto tutti i punti di vista. In concerto i solisti della Tokyo Academy giunti appositamente dal paese Sol Levante e alcune giovani eccellenze pugliesi.