I versi di Mario Luzi illumineranno la facciata della Basilica di San Miniato.Ad verbum lucis è l'installazione di Marco Nereo Rotelli che sarà inaugurata venerdì 11 maggio dalle 21 in occasione del Millenario di San Miniato al Monte.
"Un'opera dove la parola del poeta Luzi si fa luce e lo spazio del sagrato della Basilica si trasforma in un magico e millenario giardino – spiega l'artista – L'opera è nata in sintonia e condivisione con Padre Bernardo e la comunità di San Miniato ed è stata pensata come un multiplo spirituale dove denominatore comune è il verbo".
La Basilica apparirà vista dalla città come un faro azzurro, un centro luminoso di riferimento.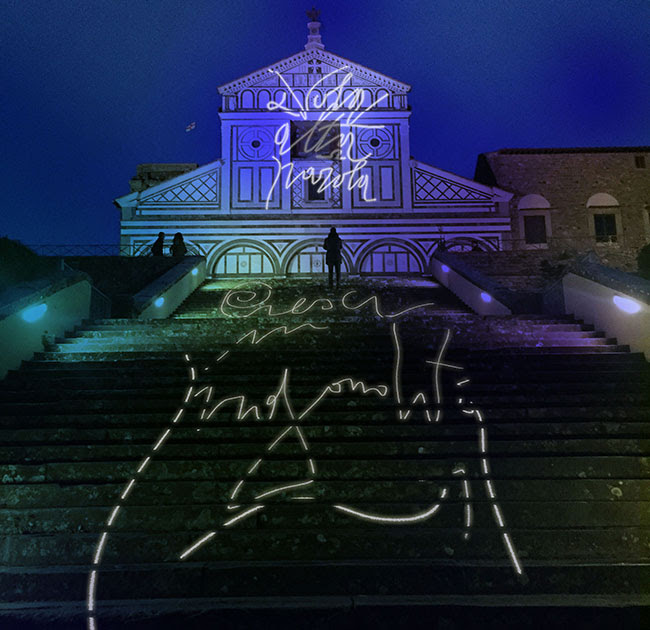 Inoltre il sagrato diventerà Giardino del mondo, con l'installazione realizzata grazie al sostegno di Vannucci Piante, Gruppo Giardini e Fondazione Carlo Linneo e formata da sette piante secolari, provenienti dai cinque continenti, che hanno, in tutto, mille anni.
Al centro del cerchio di piante sarà installato un libro di marmo, opera di Rotelli, con scolpito il verso tratto dalla poesia "Bellezza", ancora di Luzi, "Non chiuderti però". In collaborazione con il Comune di Pienza, l'Associazione Mendrisio Mario Luzi Poesia del Mondo e il Centro Studi La Barca di Pienza, l'artista investe così sulla poesia come arte del dialogo.
All'interno della basilica Padre Bernardo introdurrà la serata nella quale interverranno con i loro versi 18 poeti: Sauro Albisani, Gemma Bracco, Anna Buoninsegni, Roberto Carifi, Valentina Colonna, Rosita Copioli, Rosalba de Filippis, Paolo Fabrizio Iacuzzi, Paolo Lisi, Maria Modesti, Roberto Mussapi, Alessandro Niero, Jean Portante, Loretto Rafanelli, Zoe Skoulding, Caterina Trombetti, Yang Lian, Emilio Zucchi. L'attrice Paola Albini leggerà la poesia di Mario Luzi "Vola alta, parola". Rotelli riscriverà su una lavagna luminosa le parole dei poeti proiettandole nello spazio interno della basilica.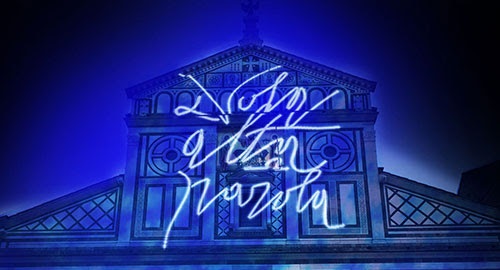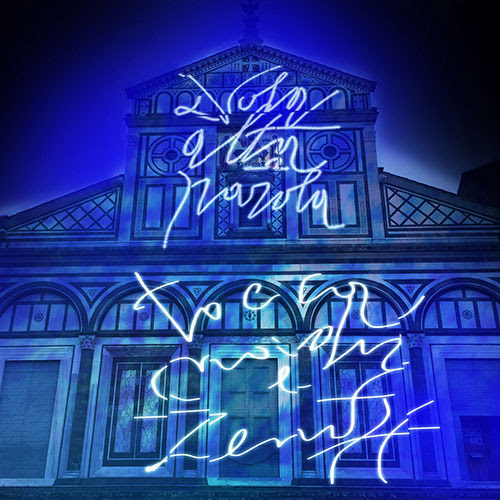 "Vola alta, parola" è anche il titolo della vetrata creata per il millenario e donata da Vetrate Artistiche Grassi, davanti alla quale sarà presentato, sempre nella serata di venerdì 11 maggio, il libro "La basilica è vostra" edito da Maschietto con le poesie degli autori presenti e di Giuseppe Conte, Maurizio Cucchi, Alba Donati, Valerio Magrelli e Davide Rondoni.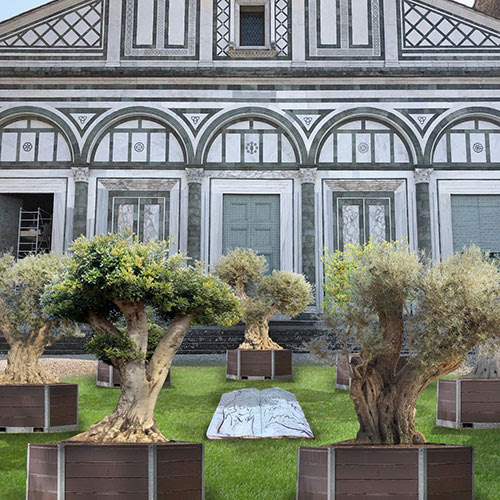 Ad verbum lucis is the new installation by Marco Nereo Rotelli, a work that will take the audience into a luminous and vocal dimension. On the occasion of the thousand-year celebration, the basilica di San Miniato al Monte will be wrapped in a light blue light, and the poem "Vola alta, parola", a symbol of the infinite that inhabits this spiritual place will be projected.
In the churchyard, a magic wood with ancient plants created by Gruppo Giardini and sponsored by Vannucci Piante will welcome visitors. On the evening of the 11th day, Father Bernardo will introduce the great poets who will offer an extraordinary reading for a night celebrating the light at the basilica.