Reviewed by LindaAnn LoSchiavo for L'Idea
            NORA:  I have other equally sacred duties.
HELMER: You do not. What duties could they be?
NORA:  The duties to myself.
"A Doll's House" [Act III]  — — Henrik Ibsen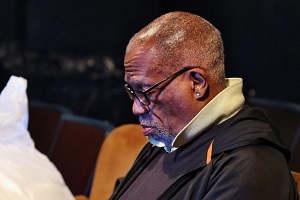 Born in Jamaica, Trevor Rhone [24 March 1940 – 15 September 2009] was a dramatist, author, and screenwriter. In the USA, the Caribbean prizewinner is best known for his film scripts that played a huge role in exporting reggae music from Jamaica to America and beyond.
Rhone's script for the 1972 film (starring reggae singer Jimmy Cliff), "The Harder They Come" is, like "Two Can Play," one of innovation, endless perseverance, and unbridled optimism.
In 1982, already well-known for reviving Kingston's theatre scene, he penned this two-hander about a frustrated wife and her controlling, adulterous, babyish numbskull of a husband, who calls himself "The General."
In a nutshell, the plot focuses on the plight of a long-married couple, Jim and Gloria who, under siege from lawlessness in Saint Andrew Parish, dream of using a Green Card wedding to snag a visa to the USA, where their three teenage offspring have been sent. "General" Jim decides Gloria should go first; after a divorce, she pays middlemen $2,500 to arrange a marriage to a Florida bachelor. Complications arise when her new mate makes her happier than Jim.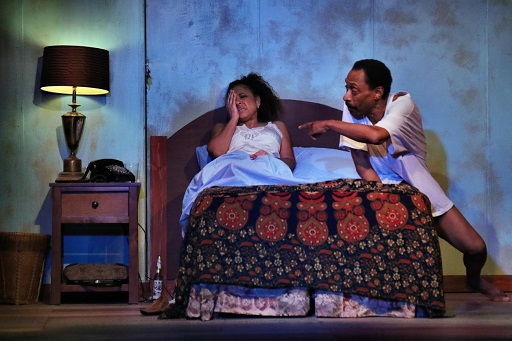 Act I of "Two Can Play" is cartoonish, filled with a Marx Brothers-type of "schtick," whose humor is derived from an uneven relationship between two partners. Husband Jim, a comic foil, plays against "the straight man," in this case his wife, Gloria, the more reasonable parent of their (unseen) children.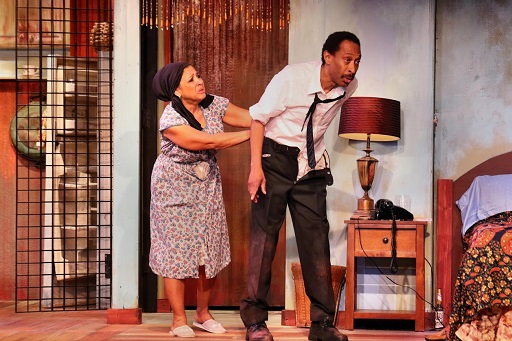 In Act I's first scene, Rhone deftly positions Jim as idiotic. Jamaicans know that "when gunman a-come," the worst thing is turning on lights. That's exactly what Jim does, making their bedroom a target, even as he prays to God for protection. Jim's over-the-top terror also demonstrates the soft belly of the bully, fearless only when belittling his long-suffering wife. Within the first few minutes, Rhone emphasizes Jim's failings with slapstick humor.
The violence threatening their lives constellates to form a "call to action" when a shoot-out erupts during the funeral of Jim's father. When the pallbearers flee, they let the coffin fall on Jim, wounding him. The imbalance in the marriage continues to be portrayed in a loony, satirical fashion as the couple buys U.S. dollars on the black market, plan to use a toothpaste tube and a camera to outwit electronic surveillance by immigration authorities, and arrange for Gloria to wed a U.S. citizen in order to obtain American residency.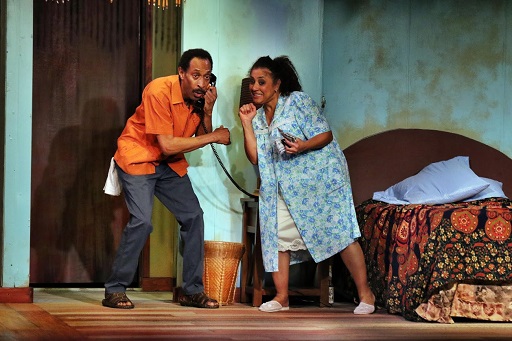 In contrast, Act II is a Caribbean retooling of Ibsen's drama, "A Doll's House." Gloria's frightful ride on the Green Card carousel solidified her self-reliance and liberated her. Ironically, her Florida husband is a gentle soul, respectful and attentive. Gloria returns to Kingston "woke." Will she slam the door, like Nora? Or can this relationship be saved?
Though a stand-out moment in this two-hour marital mash-up was Gloria's walking in on her husband in bed, hilariously masturbating, the sudden detour into a happy ending is slapdash optimism, unconvincing, and hollow.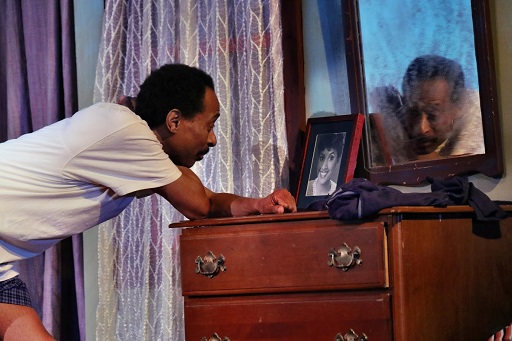 Alas, under the odd direction of Clinton Turner Davis, two wildly different acting styles are on display. Yale Drama School-trained Michael Rogers tapped into the bug-eyed buffoonery of Tim Moore [1887–1958], who gained his greatest recognition as "The Kingfish" opposite TV's Amos and Andy. Joyce Sylvester's committed performance has much in common with Kathleen Chalfant, who knows it's her job to represent the inner life of her characters.
Whereas some directors have opted to downplay the vaudeville antics in favor of overall believability, Davis gives it full rein. Consequently, a play that is tonally divided midstream — — from Act I's farcical romping to Act II's sentimental realism — — unbalances further due to its clash in acting technique.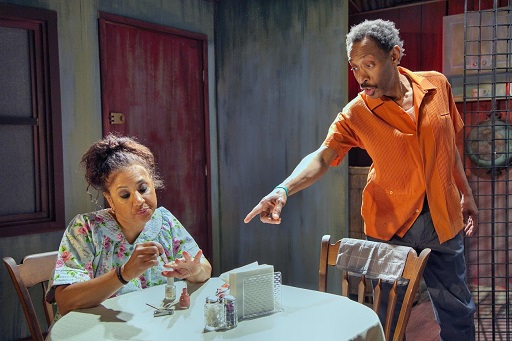 A unit set — — a lower middle-class interior and a 1970s telephone— — set the scene properly, thanks to Visual Designer Bill Toles. Lighting by Antoinette Tynes created a homey environment with hints of palm trees beyond. Costume Designer Katherine Robeson artfully transformed Gloria's drab housewife into a stylish businesswoman with a French twist.
Although the two-person cast was competent, Ms. Sylvester's training and choices seemed at variance with Mr. Rogers's mugging and physical comedy. A puzzling pairing.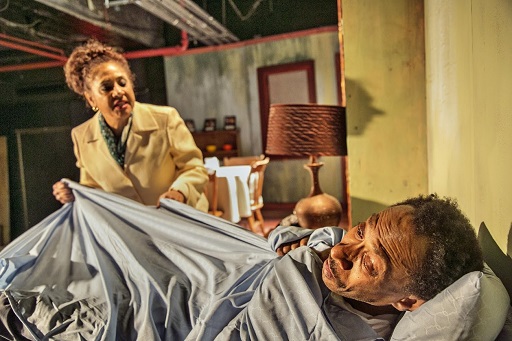 "Two Can Play" will be onstage at NYC's Castillo Theater, 543 West 42nd Street (downstairs in the Grunebaum Theatre) until April 5, 2020 in honor of Black History Month and Women's History Month. Performances are Thursdays through Saturdays at 7:30 PM and Sundays at 2:00 PM. The runtime is 2 hours.