Di Isabella Rossiello

Una formula magica e la creazione fu.
Hokuspokus è il lavoro teatrale del gruppo Familie Flöz, gruppo berlinese per la prima nazionale a Cesena al Teatro Bonci.
Tutto inizia con due personaggi che indossano buffe maschere in una specie di paradiso terrestre, lunghi camicioni bianchi a sinonimo di purezza. Il primo contatto è con la natura circostante, poi la consapevolezza di sé stessi, toccandosi e con un salto temporale eccoci in un appartamento, scarno, bianco. Gli abiti sono cambiati, sono sgargianti per lo più a righe, pois, fiorellini, molto "Burger Spiessig" direbbero i tedeschi, traducibile con "piccolo borghese".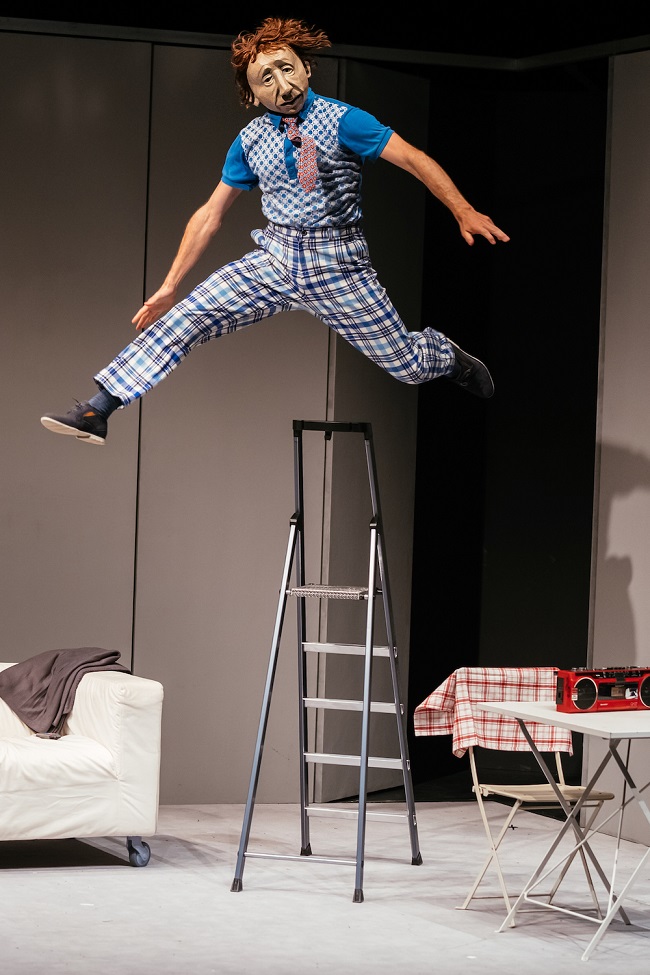 Un giorno, l'unico personaggio senza maschera, un signore dai capelli bianchi — Dio? Il fato? — fa firmare un contratto per l'affitto; il mobilio arriva e la vita della famiglia scorre… il primo figlio, poi un secondo e un terzo… Cominciano i problemi classici di tutte le famiglie con i figli, l'adolescenza e l'immancabile ribellione, il compleanno e le feste in casa, il primo figlio che lascia i genitori forse per un lavoro lontano o la propria famiglia, la malattia e la morte del secondogenito, la figlia incinta — ha un marito o sarà una ragazza madre?
La morte di un figlio e la disgregazione della famiglia è devastante per i genitori e poi arriva lo sfratto, altra gente vivrà in quel piccolo paradiso e intanto l'età avanza, i due invecchiano, poi l'inevitabile, infame morte.
Ecco raccontata così sembra una storia banale, e infatti lo è, cioè è la storia di noi tutti; in fondo la Familie Flöz però la racconta usando un linguaggio tra il mimo e il saltimbanco, la clownerie con queste buffe maschere e il linguaggio del corpo assistiamo alla gioia, al dolore, alla tenerezza e alla rabbia. Pubblico incantato, applausi e risate, il teatro Bonci pieno e ancora una volta la scelta dello staff dirigenziale si è rivelata vincente.
Chi è la FamilieFlöz? Nasce come gruppo alla Folkwang University of the Arts di Essen e negli ultimi 10 anni si è imposta all'attenzione dei teatri internazionali.
L'opera è di Fabian Baumgartner, Anna Kristel, Sarai O'Gara, Benjamin Reber, Hajo Schuler, Mats Suthhoff, e Micharl Vogel.
Le maschere e la regia sono di Hajo Schuler, i costumi di Masha Schubert.
Teatro pieno e plaudente, risate a dimostrazione che ERT ancora una volta, con una scelta oculata e variegata, rende il teatro importante come è giusto che sia.