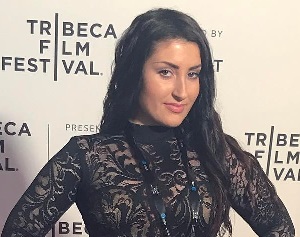 Viola Manuela Ceccarini o "ViVi" is an Award Winning TV Personality, Fashion Journalist & Writer based in New York.
Her works have appeared in publications around the world.
Growing up in one of the most influential capital of fashion (Milan) inspired her to begin a career in fashion and television broadcasting.
Viola made her first steps as an interviewer-columnist for an Italian fashion Magazine, hosting and co-hosting events.
Through out her career she interviewed great artists, celebrities and fashion personalities,becoming known in the Milan's fashion world.
In the year 2013, Viola, made a radical move for the sake of her life by moving to New York City.
She rapidly got involved in the Italian-Americans Community and had the chance to collaborate with different Italian-Americans tv and radio personalities, between Milan and New York City.
In 2015, Viola developed her own tv program, (about fashion & lifestyle) called "Fancy Talks" aired on Spectrum channel 1993 and broadcasted on digital in Texas on Televiva Houston KVQT-21.4.
Viola is currently writing for four different publications… among them: Liven-Style Magazine. Livein is a 10-year bi-lingual Special Interest publication that focuses on high-end, upscale lifestyle.
She's also the official NY Correspondent for Deamina Magazine, Mondospettacolo and Sevenpress, where she manages her own section called "Viola ViVi New York City Events". the section is international (bilingual) and has all the updates from New York City.