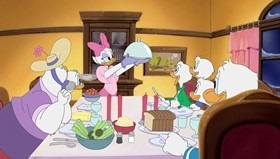 Daisy Duck is a cartoon character created in 1940 by Walt Disney Studios as the girlfriend of Donald Duck,  Daisy is a white duck with an orange bill and legs, has large eyelashes and ruffled tail feathers to suggest a skirt. She is often seen wearing a hair bow, blouse, and heeled shoes. Daisy usually shows a strong affinity towards Donald, although she is often characterized as being more sophisticated than him.  She was introduced in the short film "Mr. Duck Steps Out" (1940) and into Donald's comic stories.  She appeared in short films between 1940 and 1954, and in  "Mickey's Christmas Carol" (1983) in "Who Framed Roger Rabbit" (1988), and "Fantasia 2000" (1999), in these roles, Daisy was always a supporting character, with the exception of "Donald's Dilemma" (1947).
Daisy has received considerably more screen time in television, making regular appearances in "Quack Pack" (1996), Mickey Mouse Works, Disney's House of Mouse,  and Mickey Mouse Clubhouse.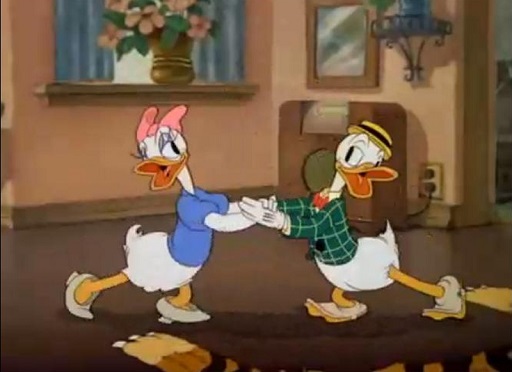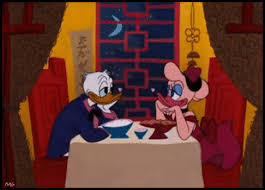 Daisy is the aunt of April, May,  June, three young girl ducks who bear resemblance to Huey, Dewey, Louie. Daisy is a close friend of Clarabelle Cow and Clara Cluck in the comics and Minnie Mouse's best friend.
Daisy is also shown to be more sophisticated and intelligent than Donald she has much greater self-control than him.
She's usually seen sporting a blouse with puffed short sleeves and a v-neckline. She also wears a matching bow, heeled shoes, and a single bangle on her wrist. The colors of her clothes change very often, but her signature colors are usually purple and pink.
The television series Quack Pack gave Daisy Duck a more mature wardrobe and hairstyle and cast her as a career woman with a television reporter job.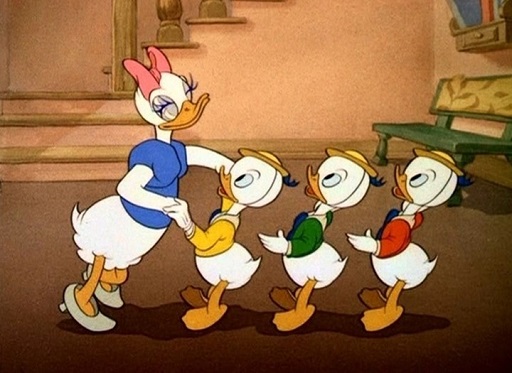 Janet Waldo voiced  Daisy in her debut in "Mr. Duck Steps Out".  Daisy was introduced in 1937 as Donna Duck, Donna made her sole animated appearance in the short film "Don Donald" (1937), directed by Ben Sharpsteen and was even voiced by Clarence Nash.
Through the years, Daisy Duck has been voiced by several different voice actors, although the most extensive work has been done by Tress MacNeille.
Disney shorts
Daisy played  in "Donald's Crime" then in "Cured Duck" (1945) in  "Dumb Bell of the Yukon", her  next appearance in "Sleepy Time Donald" (1947)
Daisy was also the actual protagonist of "Donald's Dilemma"(1947)
Donna Duck served as a precursor for Daisy in both animation and comics. She first appeared in a one-page illustration titled "Don Donald" and published in "Good Housekeeping" (1937)
Comics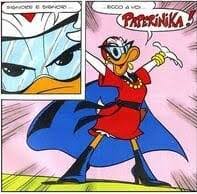 Daisy made her first comics appearance in 1940. She was introduced as the new neighbor of Donald and his potential love interest.
Her first original comic book appearance was in the story "The Mighty Trapper" by Carl Barks, first published in Walt Disney's Comics and Stories (1943). Daisy continued to make frequent appearances in stories by Barks but the next important one for her development was  in "Wintertime Wager" (1948)
In the comics, Daisy is also a member of a local gossip group called the "Chit-Chat Society", which plays bridge and sponsors charity fund-raisers. The core membership includes Clarabelle Cow and Clara Cluck.  In the 1950s, Disney launched the series "Daisy Duck's Diary", where Daisy was given more of a leading role.  Since the early 1970s, Daisy has been featured as a crimefighter in Italian Disney comics. The character of "Super Daisy" Paperinika.
At the Walt Disney Parks and Resorts and on the Disney Cruise Line ships, Daisy is a semi-common character for meet-and-greets, parades, and shows.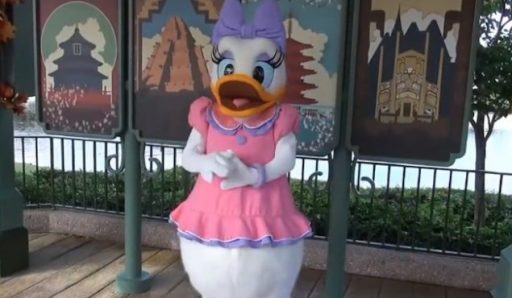 Daisy Duck is also at the main entrance in a few restaurants, such as the Tusker House,  Minnie's Springtime Dine,  Hollywood & Vine at Hollywood Studios.
ANNA & MARIA  SCIACCA