The 4th Annual Ospitalità Italiana Awes New Yorkers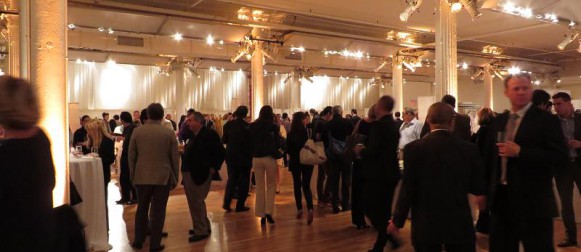 Planned by Alice Biagini under the auspices of the Italy-America Chamber of Commerce (IACC), this event was promoted as "The Authentic Italian Table," an evening of fine dining, a showcase for new Italian products trying to find distributors along with signature dishes from New York's top-tiered Italian restaurants. And there was also a CioccoShow preview. This triple-decker delight took place on Tuesday, September 23, 2014 at Metropolitan Pavilion (125 West 18th St., NYC).
The 2014 recipients of the Ospitalità Italiana Plaque included:  Academia Barilla Restaurant, Alfredo 100, Altesi Ristorante, Antinori Ristorante, Bar Eolo, Bar Italia, Barbalu, Broccolino, Cacio e Pepe, Forlini's, Gallo, Manducatis, Marcony, Monte's Trattoria, Mozzarello e Vino, Osteria del Principe, Palma, Pastai, Piadina Ristorante, Piccolo Cucina Enoteca Siciliana,  Piccolo Cucina Osteria Siciliana, Portalia, Risotteria Melotti, Rosa's La Scarbitta Siciliana,  San Marino, Savore, Trattoria Barolo, Via della Pace, Via Vai, Villa Mosconi, Vite Vinosteria, and Zagara.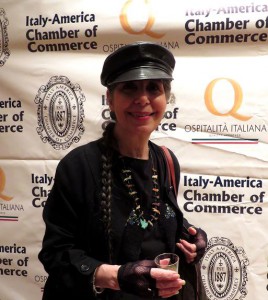 Downtown Manhattan has no shortage of commendable Italian eateries but it's understandable that these four were among those that won this year's "Golden Q" — — the Ospitalita' Italiana label of Quality: Villa Mosconi, Piadina, Piccola Cucina Osteria Siciliana, and Forlini's.
Located in Greenwich Village, and steps away from Tiro A Segno, Villa Mosconi (69 MacDougal St.) has been serving the same wonderful Northern Italian cuisine under the guidance of the Mosconi family since 1976. Theirs is a spacious establishment with a trio of dining areas.
Another Village favorite is the tiny, laid-back, lively Piadina (57 West 10th St.), with a rustic décor accented by exposed brick walls, colored pots, and farm tools.  Piadina is renowned for authentic Tuscan dishes and its tagliatelle with meat ragù sauce, gnocchi, and panna cotta.
On the other side of Houston Street is Piccola Cucina Osteria Siciliana (196 Spring St.), a cozy little Soho spot offering a true taste of Sicily: homemade ravioli, antipasti misti, and cannoli.
When you're summoned for jury duty in Manhattan, the few options near the courts fortunately include Forlini's (93 Baxter St.), with "old school" charm, Northern Italian entrees, and fair prices. Judges and attorneys crowd in during lunchtime, as they have since 1943.
It is surprising that Chelsea's Bar Eolo: Sicilian Kitchen & Wines (190 7th Ave.) received an award. Their "B" grade discourages me from sampling their Eolian specialties as well as numerous complaints on Yelp.com about unmemorable food, bad service, and overcharging.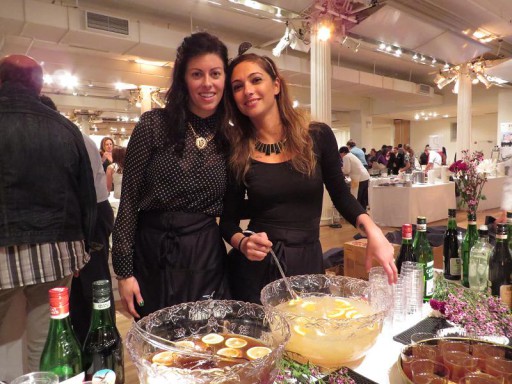 The "Golden Q"
Ospitalita' Italiana's "Golden Q" award, a label of quality, was conceived by the Italian Republic's institution Unioncamere with the support of IS.NA.R.T. and the Italian Chambers of Commerce abroad.
The goal of this accolade is to recognize the authentic Italian restaurants here and abroad, ensuring compliance with quality standards typical of the world-renowned Italian hospitality.
Restaurants that suit the quality standards listed below are eligible to receive the certification of Ospitalità Italiana:
• •          The restaurant must have at least one person able to relate with customers in Italian.
• •          The percentage of traditional Italian dishes and recipes should not be less than 50% of the total dishes on the menu. This ratio should be reached with the significant contribution of each type of course.
• •          The wine list must contain Italian PDO or PGI wines not less than 30%.
• •          The restaurant must offer for the dressing only PDO/PGI extra virgin olive oil of Italian origin or Italian extra virgin olive oil.
• •          The chef must be qualified for the preparation of dishes and Italian recipes through at least one of the following requirements:
A – professional certificate of Italian cooking obtained at an institution of repute;
B – training at a restaurant in Italy for not less than 6 months;
C – experience in Italian cuisine, even in an Italian restaurant abroad, not less than 3 years.
On September 23rd, several exhibitors, who were past winners of the coveted "Golden Q," included the iconic Barbetta (321 West 46th St,), newcomer Ribalta Pizzeria (48 East 12th St.), and La Nonna Bella (660 Franklin Ave., Garden City, NY).
Founded in 1906 by Sebastiano Maioglio, Barbetta is now owned by his daughter, Laura Maioglio. Its landmark status has been recognized by the prestigious and highly selective Locali Storici d'Italia, which has designated Barbetta a Locale Storico (Historic Establishment,) the only restaurant in America to have been so named. On September 23, Barbetta served a gaily tri-colored salad, with a scoop of soft cheese enclosed in a strip of cucumber, cleverly arranged to look like a happy face.
A Neapolitan delight and a prized pizza pit-stop, Rosario Procino's Ribalta and chef Pasquale Cozzolino were the focus of our summer article "Sapore di Cinema." On September 23, Ribalta prepared a hearty pasta e fagioli with a hunk of peasant bread.
The Pugliese owners of Long Island's La Nonna Bella told me that Chef Lino, who was born and bred in Conversano, wanted to bring the classic flavors of Bari to Nassau County, for example,  cozze al pesto, salame di cinghiale (wild boar), vongole gratinate, penne orto mare, strascinate Pugliesi, and cavatelli Conversanese along with classic Mediterranean favorites. Though Lino, Erica, and Franco had never heard of L'Idea, which was founded as "periodico dei pugliesi in America," I promised them a mention.
B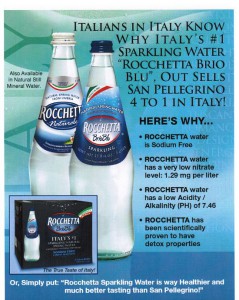 ooths were also manned by purveyors of pasta (such as La Campofilone) Italian chocolates, assorted delicacies, and wine and spirits. Pallini's Limoncello, crafted using only the finest sfusato lemons from the Amalfi Coast, was a new experience for me. An alcoholic punch with lemon slices, served by two Italian beauties, was strong and memorable.
From November 12—16, 2014, the tenth edition of CioccoShow will take place in Piazza Maggiore in Bologna, featuring 100% handmade Italian chocolates. On this Tuesday evening, visitors got a taste of Agostoni's gourmet selection of top-notch chocolate creations. Sarlotti gave away free miniatures of crunchy indulgences such as Riso e Latte. La Sorbetteria Castiglione served their incomparable pastries and gelato. Romeo Viganotti, a chocolate factory since 1866, provided a fountain and hand-dipped dried fruit, an instant trip to sugar sublimity.
One of my favorite vendors was Rocchetta Brio Blu, sodium-free sparkling water from Gualdo Tadino in Umbria, easily the best beverage on the planet.
Ah!  Felicità raggiunta!
(Photos by Conrad Bradford)