Reviewed by LindaAnn Loschiavo for L'Idea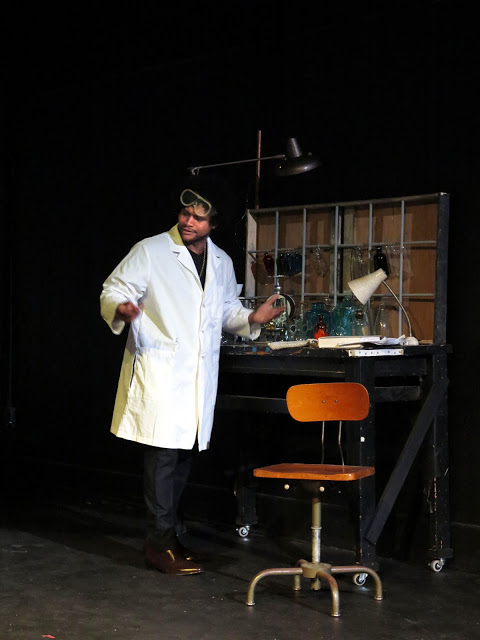 According to the New Testament, the conversion of Paul the Apostle occurred en route from Jerusalem to Damascus and this passage in the Bible inspired August Strindberg's "The Road to Damascus," a drama eventually expanded into three parts. Parts I and II of the trilogy were written in 1898, while Part III was added somewhat later, during 1900—1919.
Depressed after two divorces and having lost custody of his four children, and having endured a prosecution for blasphemy, Strindberg began drinking instead of writing. An interval of mental instability and writer's block culminated in a kind of religious conversion. His new faith, influenced by mysticism, renewed him as a writer. In his stage play, "To Damascus," Strindberg depicted himself as "the Stranger," a wanderer seeking spiritual peace and finding it with another character, "the Lady," who resembled two ex-wives, Siri and Frida.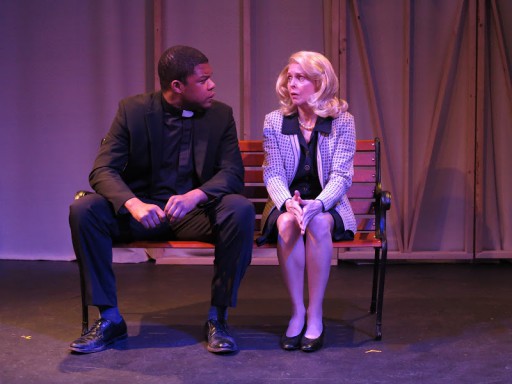 Unfortunately, Strindberg shrugs off the playwright's commandments, committing the worst of sins: telling not showing. Scene 1 sets out shamelessly talky back-and-forths such as this exchange between the Dominican [Andres Pina] and the Lady's pious Mother [Diana Lynn Drew], who has been describing her new son-in-law—— "a writer, said to be famous at home" ——as godless, unhappy, unlucky, and becalmed by illness.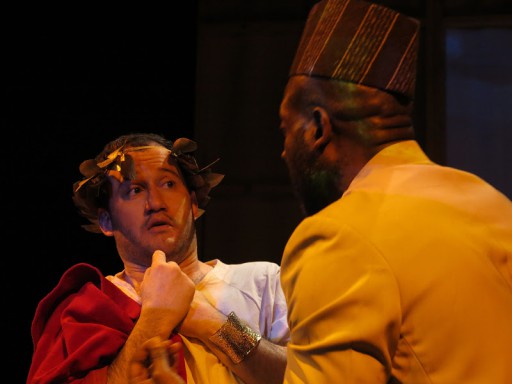 The Dominican gives this lengthy reply:
DOMINICAN. Wait! Last year a man was brought to the Convent of St. Saviour, where I'm Confessor, under the circumstances you describe. Whilst he was feverish he opened his heart to me, and there was scarcely a sin of which he didn't confess his guilt. But when he came to himself again, he said he remembered nothing. So to prove him in heart and reins I used the secret apostolic powers that are given us; and, as a trial, employed the lesser curse. For when a crime's been done in secret, the curse of Deuteronomy is read over the suspected man. If he's innocent, he goes his way unscathed. But if he's struck by it, then, as Paul relates, 'he is delivered unto Satan for the destruction of the flesh, that his spirit may be saved.'  . . .  Yes, it is he. Your son-in-law! The ways of Providence are inscrutable. Was he heavily struck by the curse?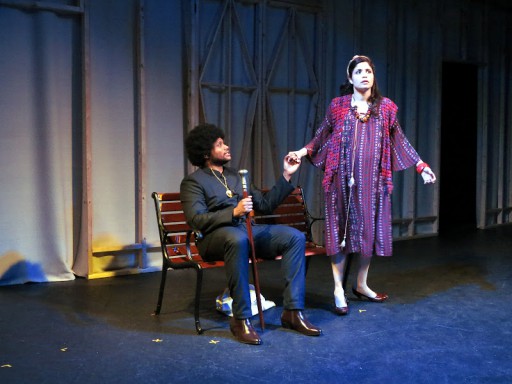 Apparently, director Robert Greer realizes he's waded into dark and troubled waters. Strindberg's text can be insufferably convoluted, carelessly implausible, and often overbearing in its lessons about personal redemption. Greer tries to keep the audience awake with quick, efficient pacing, and sharp moments of humor that lighten the load a bit, especially in light of many rambling monologues. But the play inherently lacks drama——the dramatic conflict that arrests our attention and makes us invest ourselves in the outcome is spread too thin during two hours.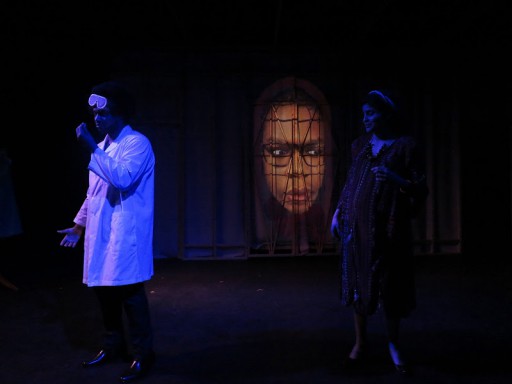 Some cast members lightened the burden. Actress Ivette Dumeng, who was a seductive, petulant Julie in the company's production of "Miss Julie" in 2014, is wonderfully witchy as she cycles between scorn and affection for her tortured black intellectual mate known as The Stranger [Jarde Jacobs, Afro-wigged]. The Professor/ Father [Al Foote III] made excellent use of his rich voice and physicality, though it's unclear why his son-in-law does not recognize him. A number of bit parts were played by Randall Rodriguez but he was most riveting as Caesar, the laurel-crowned lord of misrule.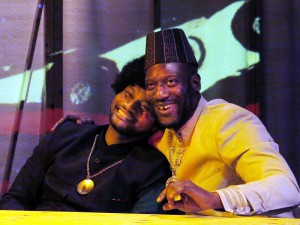 The stage was large enough to accommodate several playing spaces. Instead someone decided it was better to annoy the audience every ten minutes by shuffling furniture back and forth.
The projection that worked the best was in the alchemist's laboratory.
Costuming by Zulema Griffin often baffled me. The women's 1960s hemlines are incorrect and the footwear is wrong. Why isn't The Stranger in platforms or the pregnant Lady in buffalo sandals? And obviously, Griffin has never turned to EBAY for pictures of a real Peppermint Lounge go-go dancer.
Strindberg's Victorian Era dialogue has been shellacked with Age of Aquarius slang along with quick references to 1960s sites (Haight-Ashbury) and familiar figures (Walter Cronkite). At one point, the Doctor [Tomike Ogugua] echoes the familiar JFK phrase "with vigor" and the Go Go Dancer [Camilla Goritz] rolls a joint. Alas, no one really lets the sunshine in.
— — — — —  — — —  — — — — —  — — —  — — — — —  — —
GALLERY ( Photos by Remy S. and Johnatan Slaff)

— — — — —  — — —  — — — — —  — — —  — — — — —  — —
DAMASCUS II — August Strindberg Repertory will present Strindberg's "Damascus II" adapted by Edgar Chisholm, directed by Robert Greer, March 12 to April 2, 2016 at Gene Frankel Theatre, 24 Bond Street, NYC. Strindberg's tale of life in decadent artists' circles of 1890s Sweden will be brought to life in 1960s California; the leading character, an alienated writer, has been re-envisioned as an author modeled on Amiri Baraka.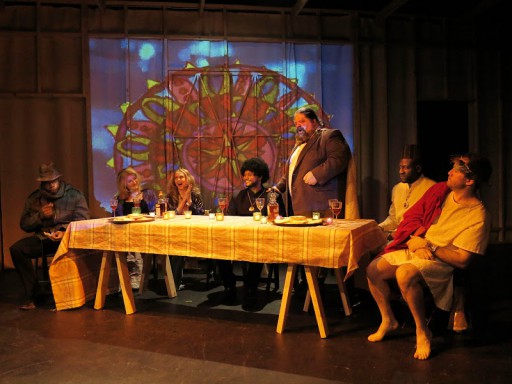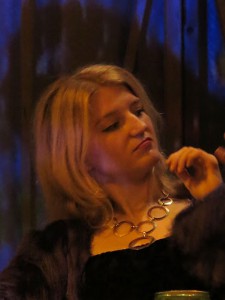 Adapted by Edgar Chisholm, starring Jarde Jacobs* and Ivette Dumeng with Diana Lynne Drew*, Camilla Goritz, Tomike Ogugua, Al Foote III, Andres Pina and Randall Rodriguez*. Produced by Jessa-Raye Court, co-produced by Whitney Aronson and Martin Boersma, sets by You-Shin Chen, costumes by Zulema Griffin, lighting by Leslie Smith, sound and video by Andy Evan Cohen and Janet Bentley, props by Lytza Colon, and stage management by Hannah Delmore and Danny Morales, web design and social media by Katie Ostrowski. Directed by Robert Greer.
*These Actors and Stage Manager(s) are appearing courtesy of Actors' Equity Association.          Damascus II. Through April 2 at the Gene Frankel Theatre (24 Bond Street, between Bowery and Lafayette). www.strindbergrep.com